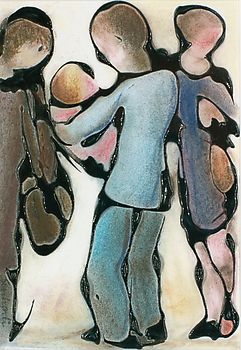 Linden Centre for Contemporary Arts is a reputable institution for art in Melbourne and in Australia. It is now 20 years since the first Linden Postcard Show was held. It is the largest open entry show of its kind for 2D and 3D art.
This year I entered with one piece which will be exhibited until end of March. Here is what the show says for itself:
"All works are for sale and the small format means the work is reasonably priced. Works by established as well as emerging artists hang side by side in a frenzy of colour and movement - a great noisy celebration of creativity. But it is the small and individual pieces of art people come back to see that, even through all the noise, have quietly spoken to them."